Raise your umbrella, lay your towel and strip off your clothes. You've found the perfect spot to soak in the sun's embrace.
Gazing towards the glistening blue, the ocean calls — but the golden sand is louder. Just a little bit longer. You recline and take in the world around you; people strolling, playing, living. People making memories that will last them a lifetime. To a soundtrack of crashing waves, your body starts to relax and you remember you have absolutely nowhere to be.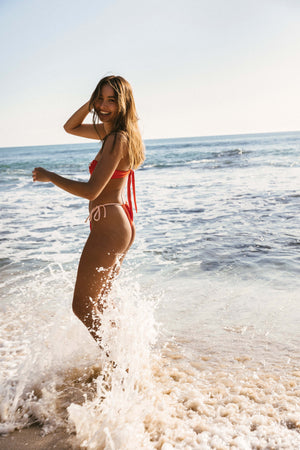 A LOVE LETTER TO MEMORIES MADE
Marla Swim is more than a bikini; it's a love letter to long days by the beach, the memories made there, and my mom, Manuela, the woman that shaped mine.
I was born in the magnificent city of Cape Town, South Africa — in my opinion, one of the most beautiful places on earth that holds such a special place in my heart. It's been the golden backdrop of my childhood, the postcard of many holidays, the runway of countless Brazilian bikinis, the destination of my wedding — and now, the story behind Marla Swim. 
And it was all thanks to my mom, the pint-sized, Portuguese life of the party. My mom's love for Brazilian bikinis, beachside vacations and bronzed skin became the fabric of my childhood. My sister, mom and I made memories all over the world, with our getaways always starting the same: choosing a new swimsuit to run free in. Now, I hope to pass on that ritual to you through Marla Swim. 
I was lucky enough to call Cape Town home, with days spent seaside and evenings poolside, with food, dancing, music and laughter. It's these nostalgic moments that form the essence of Marla Swim.
Designed in Australia, each piece is stitched with a story. For me, it isn't just about swimwear. Marla is made for every woman who, like me, finds beauty in simplicity and cherished moments made elsewhere. So long as there is sand under our feet, and a twinking ocean not too far away.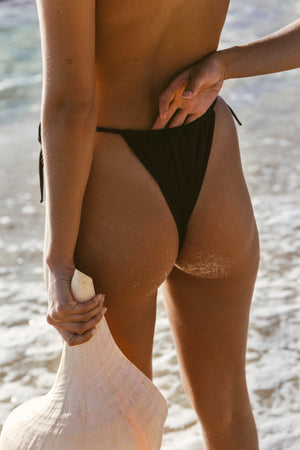 OUR PHILOSOPHY
Each garment is a testament to our ethos: where fashion meets memories. We believe in the timelessness of moments; the kind that leave marks on our souls. That's why our designs don't chase the trends but draw from memories made.
Rather than conventional collections, we present 'Memories'. Every memory or collection is a curated ensemble, inspired by moments of the past.
In choosing this philosophy, we're also making a commitment to our planet.
Each memory is produced in limited quantities, making them more sustainable and exclusive. Once a Marla piece is claimed, it stands as a unique symbol of both personal and environmental consciousness, never to be replicated.
With Marla, you're not just choosing swimwear; you're aligning with a brand that values our planet just as much as our memories. In our fabrics, you'll find the echoes of the past, the promise of the future, and the ethos of a brand deeply rooted in authenticity.